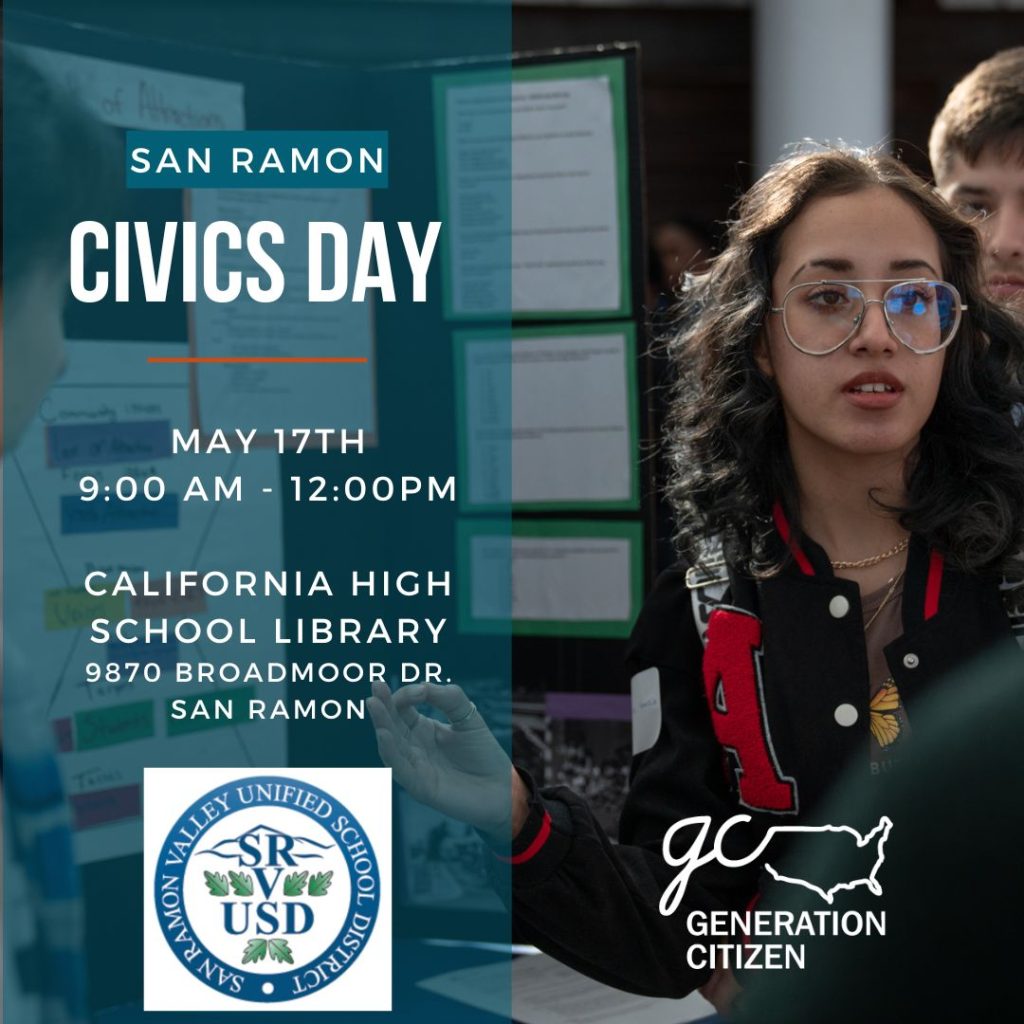 Good Morning!
First I want to thank Generation Citizen in partnership with San Ramon Valley Unified School District, supported by the San Ramon Valley Education Foundation for offering tools for this rising generation to build civic skills and make America the inclusive multi-racial democracy that we need. Generation Citizen began in 2008 as a student project, much like your projects presented here today. Thank you to the student leaders in this room for sharing your talents and lens with us. Your thoughtfulness, engagement and research to vibrantly highlight systematic root causes for issues that not only matter to you, but SHOULD matter to us all.
Fun fact! I was born on election day in Chicago in the wake of Watergate. From the time I was a young child, every time my Dad and I would drive down the Eisenhower Expressway he would loudly exclaim, "That's where the first Lady President was born!" It took me awhile to 1) Understand what a President was and 2) connect that he was talking about…me. "President" should be a part of every 5 year olds vocabulary! Now, while only some of us are born on Election Day, there is no secret sauce in genetic code when it comes to being an elected official. Anyone that wants to serve can. While we have yet to elect a female president in this country, I'm confident that it will happen because of your generation.
Schools do not JUST produce students that read and write- they help develop citizens that will shape our world in a way we have yet to dream or imagine. What better platform than schools to launch lives into purpose? Events like today are important to cultivate an environment where we continue to embrace and encourage civic engagement and participation early on. You are never too young to question or advocate for something you believe in. You need not need a degree or money to rally a cause.
Youth voice is important in democracy because when you learn how to explain your point of view, you will learn how to lead and influence being the changemaker our community so needs. We are not short on topics that need attention! And while I'm sure many would like to talk about the quality of school lunches (which isn't a local issue- it's national), all one needs to do is tune into a school board meeting to witness how marginalized our LGBTQIA community must feel, how whispers of censoring and book banning have worked its way into the halls of present day academia, racism, safety, bullying, diversity, inclusion, mental health, access to the arts, funding for our schools, the impacts of social media, food insecurity, housing needs… This is not easy work! Today is not the end of your journey, it's merely the beginning!
While our school district has made much headway in the last few years with intentional efforts to do the important work of equity and inclusion in a framework where youth voice is more centered in discussions and decisions, such as having a student board member, panels and committees that youth serve on. It's okay for us to celebrate that while also questioning if we could be doing more or something different to serve, cultivate and support …not the future leaders of tomorrow, in case you needed a reminder– just look around this room- the Leaders of NOW.
While kids can't vote, how we as adults vote certainly impacts them. So volunteer on a campaign to learn the process first hand, apply to be on a commission, work for a non profit or start your own. Anywhere that youth is on the agenda by adults, show up. After all, being a citizen isn't who you are- it's what you do! And YOU truly inspire!
Thank you!