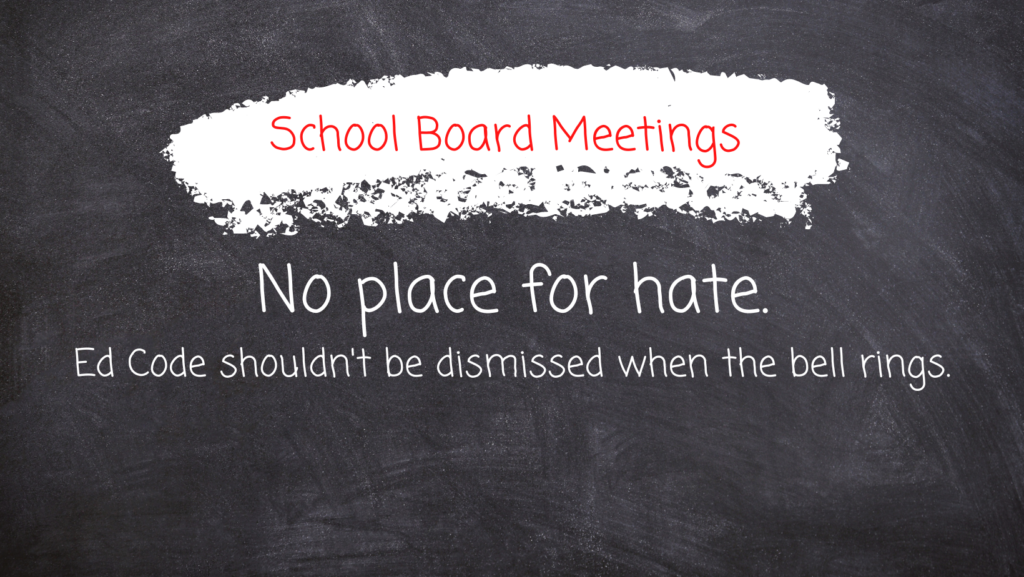 I urge you to consider advocating for legislation to protect the civility of public school board meetings and promote local codes of conduct for meeting participants without limiting the right to dissent. We need to support our school districts and boards by arming them with the legislative control necessary for their safety, students safety and the safety of our community.
School board meetings should not be placed in the same governing framework as City Council or County Supervisor meetings in regard to the Brown Act. Designated school campuses that are "No Place For Hate" shouldn't come to a pause because the school bell rings for dismissal and a school board meeting starts. Campuses should be seen as sacred ground in which is a second home for students.
Over the course of the past 3 years, I have witnessed things at school board meetings in which if these same adults were students attending schools, they would be reprimanded and seen as bullies. Many adults that speak at open comment show no filter even when children are present. This is beyond swearing at our Superintendent (which has happened). This is also about the damage speakers are doing to students (minors) who are members of the LGBTQIA+ community and BIPOC. "Child abuse is more than bruises or broken bones. While physical abuse often leaves visible scars, not all child abuse is as obvious, but can do just as much harm." Source Homophobic slurs should be seen the same as racial slurs. Recently I witnessed someone at public comment say the following things in front of children who were invited guests:
"The trendy dysphoria dujour is the psychosis that is deflate from reality is transgenderism – a delusion which declares insanely that men and boys can become women and girls and vice versa or that people can simply be non-binary or gender fluid."
"Rational people call this madness insanity."
"Homosexual Gender-Bender Promotion."
In his 3 minutes he managed to fit in the words: DISRUPTION, NEUROSIS, DYSPHORIA, PSYCHOSIS, DELUSIONAL, INSANE, SHAMELESS, FIXATION, TWISTED, WEIRDNESS and CONFUSED KIDS. SOURCE: Public Comment at 1:21:46
At the June 7th, 2022 San Ramon Valley Unified School District Board meeting I witnessed another person at public comment say the N word. Not just once, but multiple times. The N Word: As witnessed (time stamp 3:23:40).
We can not be seen by the very students we serve as hypocrites that contradict school policies, California Ed Code and mission statements. While these are examples to what I have personally witnessed, a quick search of headlines across our state tells me that they are not isolated incidents. Can we work together in starting this conversation?
ACT NOW. Join me in contacting our elected officials to help bring this topic to their attention and start this important conversation:
California Superintendent of Schools, Tony Thurmond.
The California State Board of Education.
Contra Costa County, Superintendent of Schools, Lynn Mackey.
16th California Assembly District, Assemblymember, Rebecca Baurer-Kahan.
7th District, Senator Steve Glazer.