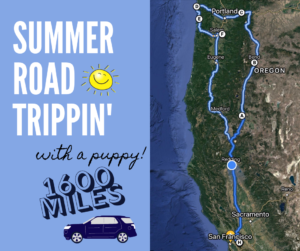 Now let us drink the stars, it's time to steal away…

-Red Hot Chili Peppers, Road Trippin'
I've been up and down the California Coast and I'm pretty proud that since moving here in 2014, I now wear the badge of personally driving by hugging the coast down from San Diego all the way up to Fort Bragg! We're lucky to live in such a diverse state- we can literally go to the beach and mountains for snow in the same day if we wanted to! Whether you are standing in the shadow of our giant redwoods in one of our many forests or soaking up a west coast sunset, it's hard not to fall in love with this state. There is something magical about being able to live where you'd want to vacation.
That said, I had an itch to see what is north of us… in Oregon! Now that travel has opened up and we were all able to get vaccinated, we thought visiting Oregon would be the perfect road trip. Our first trip since 2019 due to the pandemic and travel mandates (#SIP). We adopted a puppy the week of Thanksgiving of 2019 and we couldn't leave her behind. So, I researched pet friendly resorts to stay along our route and was surprised how pet friendly the entire state of Oregon is. We really lucked out with the timing of our trip too because we traveled right before a horrible heatwave hit the state, followed by fires.
We viewed packing for our pup as if she was a toddler. Food, treats, a few favorite toys, a familiar blanket from home and a collapsable water bowl. We did pick up a few extra things for the trip: a dog paw cleaner (for when we went hiking and to the beach) and a dog stake and tie-out cable. We made a cozy spot for her in the back where she could lay or stand. She did great!
Our first stop was 3 hours away in Redding, California to see the Sundial Bridge.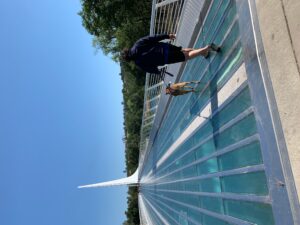 A little over 2 hours from there was our first resort stop at Running Y Ranch in Klamath Falls, Oregon. This ranked as our second favorite place to stay and we will definitely be back! We loved how quiet and peaceful it was. We had fun playing table tennis, basketball, swimming and eating on site. Even with restrictions and limited staff, this place was very hospitable. There were lots of other dogs here too- and they have a doggie park.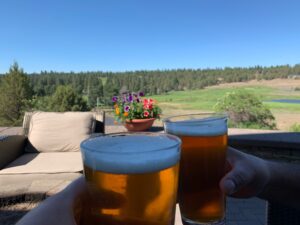 On the second day we work up early and headed to Crater Lake. We heard that a lot of National Parks fill up fast to capacity so we were sure to purchase our tickets online. We couldn't have asked for a more perfect day to visit Crater Lake. It was 75 degrees and there was still snow on the ground! At 1,943 feet deep, Crater Lake is the deepest lake in the United States.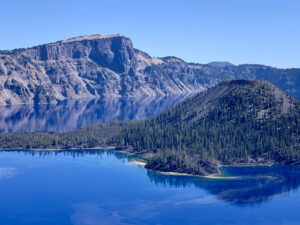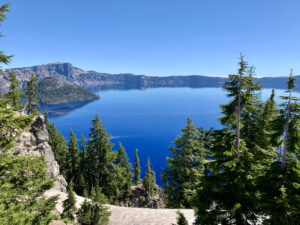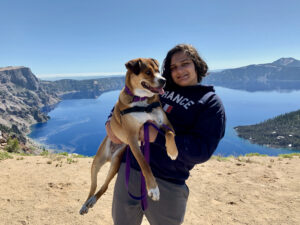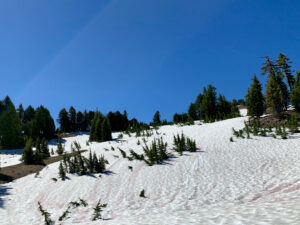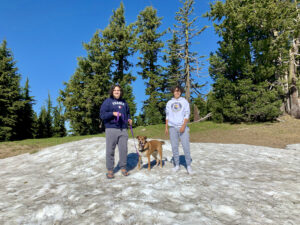 After our time at Running Y Ranch and Crater Lake, we were on the road again… We stopped at Bend for lunch at a very dog friendly Deschutes Brewery. This was well worth the stop! Pup Bailey agrees that it was one of the best beverages and burgers we've ever had. She loved hanging out on the patio while waiting for her food.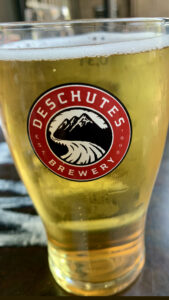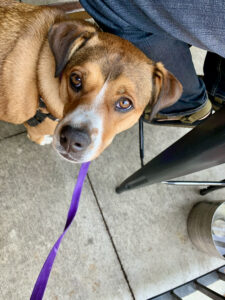 Three hours from our lunch spot was our next place to call home for a few days…in Washington! While I've been to Washington before, this was the first time it wasn't in the Seattle area.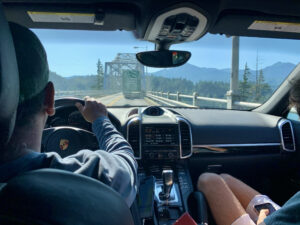 Skamania Lodge was quick to welcome, Miss Bailey and even had a special gift bag for her waiting in the room. Her own water bowl, blanket, extra leash and big dog bone.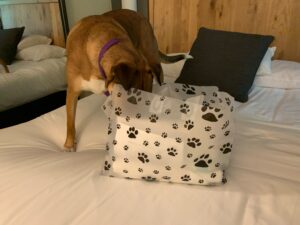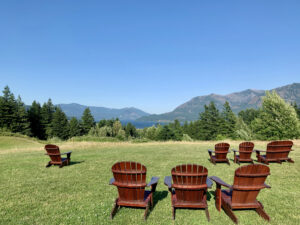 You certainly can't beat the view here, but over all we don't plan to come back to this place. The property is dark inside and really showing its age. While we understand that many places are struggling with staffing, there were often times over the duration of our stay that the kitchen stopped taking orders (at 4:30p.m. and told us to keep trying back after an hour) or it took over 90 minutes to pick up food. Being outside on the lush lawn was our favorite part- day or night.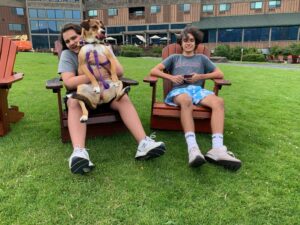 We also had fun at the miniature golf course. Miss Bailey may have added a few extra hits on some plays. She couldn't help herself!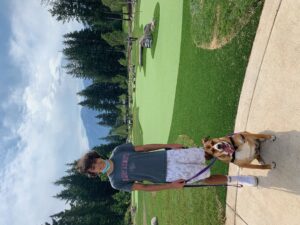 There are lots of hiking trails on the property which was a bonus.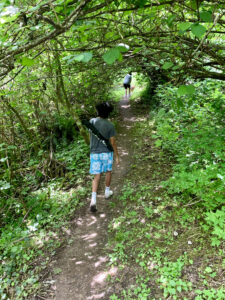 Back across the Columbia Gorge River to Oregon, where our next chapter would lead us through Portland for a 2 hours drive to Cannon Beach.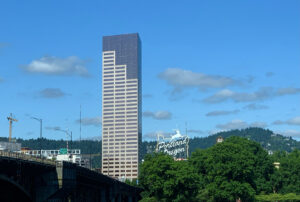 The Hallmark Resort and Spa on Cannon Beach at Haystack Rock was hands down our favorite spot! Direct Beach access made for long strolls and exploring from sunrise to sunset. "The history of Hallmark Resorts, Inc. can be traced back to a cocker spaniel named Sissy. In 1948, Bill and Georgie Hay's dog (Sissy) sniffed out a For Sale sign sitting high on a bluff overlooking Haystack Rock in Cannon Beach. The couple soon turned this special site into the Hallmark Resort & Spa in Cannon Beach." (Hallmark Resorts, Inc.) We loved the bag of goodies they gifted Miss Bailey upon arrival; a frisbee, special dog cookie, and a water bottle that has a flexible cup attached so that you can squirt water directly into it for your dog to drink. Also, a portion of the room fee for renting a pet friendly room goes to the local animal rescue.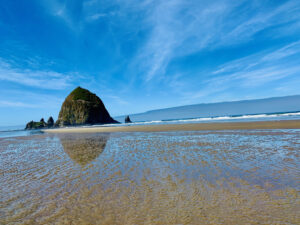 As we made our way back down to our next destination, we stopped off at Tillamook Creamery for lunch… ice cream!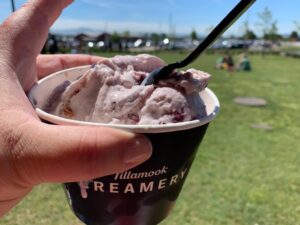 Our last stop on our bucket list was Silver Falls State Park. We may have all sparkled in the sun on our hike like the Cullen's Family (this is one of the locations the movie Twilight was filmed), but it was just because around this point in our trip, Oregon started to heat up. This park was one of the most beautiful and peaceful places with so many different shades of green.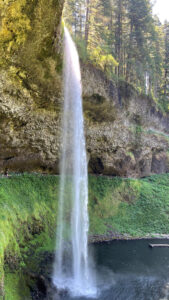 After a week and 62,000 steps later, we headed back home to California from our epic road trip with puppy! In the end, we drove 1600 miles. The people of Oregon (and Washington) were so friendly and nice. We continue to think of them all and will certainly be back!