Art + Wine + Open Air = worth the wait for one amazing date!
When fiction became reality, much waiting and hoping prevailed in the long months ahead for shelter in place. After over a year, my husband and I had our first date today. Covid numbers are finally lower in California and albeit it masking and social distancing will still remain for quite some time, things are opening up a bit more.
We had reservations at The Donum Estate (appointment only) located in Sonoma, California. Donum means "gift of land." While my husband isn't exactly someone that likes wine or art, he sure likes me– which made this experience all the more special.
Upon arrive, you need to be buzzed in after confirming your reservation. Prior to arrival, there is a Covid-19 screening and agreement you must fill out and sign. We were told to drive in and park in the guest lot where our host Philipe would meet us. Someone else would welcome us before Philipe though. As the gates slowly opened, Sanna by Jaume Plensa looked on.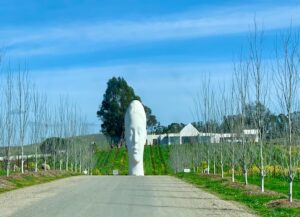 Upon greeting us with a glass of Rose to kick off our tour and tasting, Philipe led us to our chariot. In this case an all-terrain vehicle for our "Explore Experience" to tour the open-air art sculpture collection.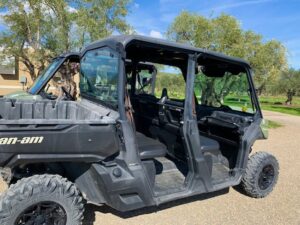 One of the first sculptures, The Care of Oneself by Michael Elmgreen and Ingar Dragset,  was a reminder about why this day was so important for my husband and I; self care. Everyone is grieving something right now. Even when we know that we shelter in place and take precautions because we don't only value our health, but the health of our community- doing the right thing does not mean that we do not feel the weight of the situation on our hearts. Often neglected in this experience is self care.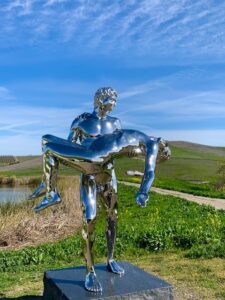 The next stop on our tour made my heart skip a beat as I felt a little star struck. I found myself like repeating "beautiful, beautiful…" many times over. "Love Me" by Richard Hudson did not disappoint.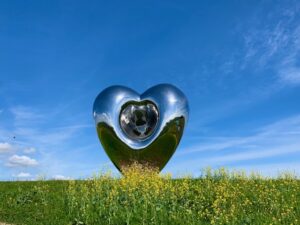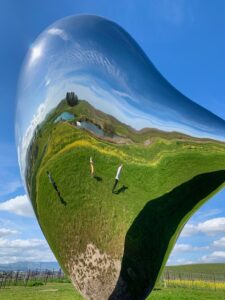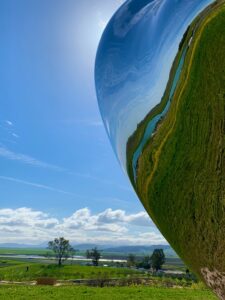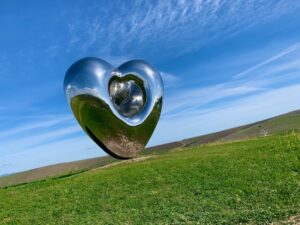 Down and up the hillside we explored with Philipe and his trusty side kick Pancho (his dog).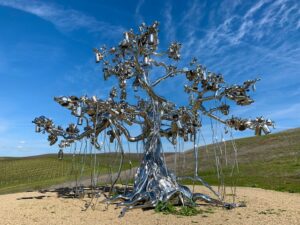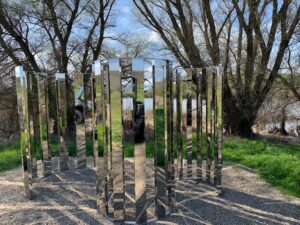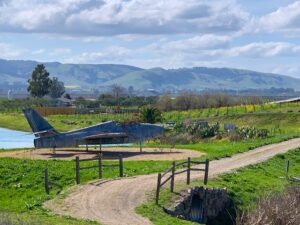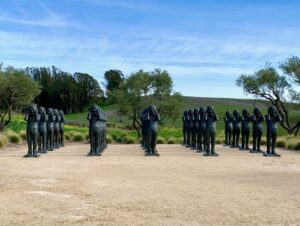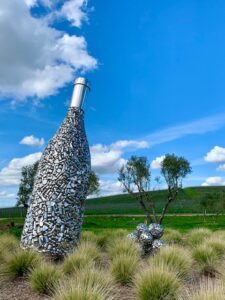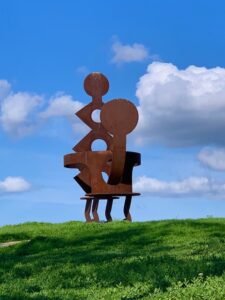 For our private tasting, in the most serene outdoor setting, wine was paired with seasonal tastings from the working farm. Everything we tasted was designed to elevate and immerse our taste buds into the experience. It worked! This experience taught us the art of tasting.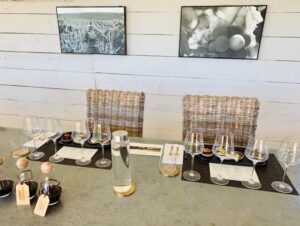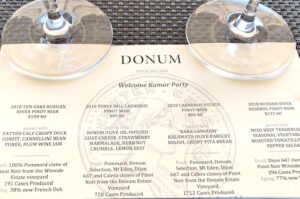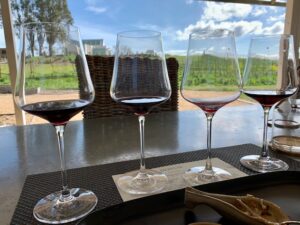 If you haven't been outside of the house in a really long time and you're looking for a safe, open-air, fun adventure, I highly recommend booking a reservation at The Donum Estate. It was literally my husband, myself and our amazing host Philipe. Be sure to ask for Philipe too! We loved this experience, picked up a bottle to take home and look forward to celebrating here again. (One of the benefits of only living one hour away!) If you would like to learn more about the art and artists pictured, click here.