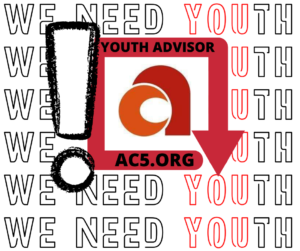 "Being a member of a youth commission allows for professional development, encouraging young people to pursue a career in the public sector and participate in local civic activities. They are a resource that provides youth a voice in the political process and community input for local government. When a city, county, or special district creates a youth commission, they are investing in a new generation of public employees and change agents."
-Institute of Local Government
Inspiration comes in many forms and in this case it showed up 2 years ago when a high school student showed up at a meeting applying for a role on the Arts and Culture Commission of Contra Costa County. It was my first commission meeting when I asked to be tasked with the creation of a Youth Advisor role because it's important for our youth to have a seat at the table, share their lens and hear their voice. It's also important to cultivate an environment where we welcome and encourage civic engagement and participation early on. After all, the youth now will one day be our future leaders.
From the initial research, framework for a draft for a change in our by-laws, information packet, interview questions down to the graphics and stepping up to mentoring, I'm always willing to do the work needed to support our county with initiatives that directly make a positive impact on so many lives. With a heart for service, I'm thankful for a Commission that supports this effort and Board of Supervisors that sees value it. My hope is that this lays the foundation for representation by our youth in every Contra Costa County district and perhaps, nudges other commissions and boards that lack youth representation to inquire about widening their circle for such a role.
Our first youth advisor has been so incredible to work with and support. As an intelligent, enthusiastic, creative, insightful, compassionate, organized and joyous collaborator that loves to bring people together as a Champion of the Arts, Youth Advisor Carolyn Considine has truly paved the way and set the bar for first ever county role.
She was the one that created our first ever live streamed panel for youth artists on 8/27/2020 for Artist Café which has a reach of 3.6k!
When Covid-19 hit, she pivoted to find a way for youth artists to continue to express and showcase their work—in the first ever online art exhibition for our county which showcased over 100 works of art from 27 different high schools!
She is the mastermind behind the Justice Murals of "Project WE."
She worked directly with Contra Costa Department of Education last summer to create the first ever county wide high school art exhibition in the offices in Pleasant Hill.
Our first Youth Advisor's term ends in the summer of 2022, but our application just opened for the next Youth Advisor to apply! In only 10 business days, this application closes so don't wait to apply for a chance to represent youth in a county of 1,165,927 million (per County Costa County website). As a youth advisor to the Arts and Culture Commission of Contra Costa County, participants serve not only as a volunteer but an ambassador for the county. A Youth Advisor provides an element to the commission in which their perspective enhances the mission, contributes to the conversation, entertains ideas of collaboration, representation and engagement for youth in Contra Costa County. Youth Advisors interact with county officials, learn about local government and civic engagement. Youth Advisors are to attend regularly scheduled Arts and Culture Commission Meetings once a month. Youth Advisors are assigned a mentor within the commission who are to be a point of contact for questions and support. Youth Advisors are expected to complete a service project and create a portfolio or resume during their year with the Arts and Culture Commission. Youth Advisors are expected to maintain a high level of responsible behavior and good standing in school as well as the community- including social platforms.
Application forms can be obtained from the Clerk of the Board of Supervisors by visiting the County webpage at www.contracosta.ca.gov/3418, calling (925) 655-2000, or e- mailing ClerkoftheBoard@cob.cccounty.us. To learn more about the work I'm involved in on the Arts and Culture Commission of Contra Costa County visit AC5.org.
Let's all cheer on our youth while also giving them a platform to use their own voice!